Watch what you want, when you want.
Enjoy over 34,000 hours of HD movies and shows on your own schedule. Whether you're watching the latest blockbusters or simply catching up on hot TV series, you can start watching an On Demand movie on your TV and pick it up right where you left off on your mobile device.
New movie releases
Get access to tons of new releases every month from the comfort of your couch. With Own with Fibe, buy great movie titles and watch them again and again as long as you are a Fibe TV customer. Rent Early release movies – the newest movies released early from the theatres.
TV1: only on Fibe TV
Access content you can't find anywhere else. Enjoy original and local food, entertainment and lifestyle series created by local producers.
Select movies and shows are even available in 4K on Fibe TV.
Learn more
On Demand with Fibe TV

On Demand with SatelliteTV
On Demand with Fibe TV Tab Panel.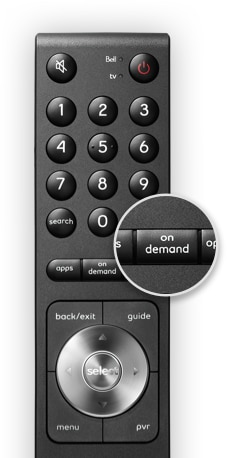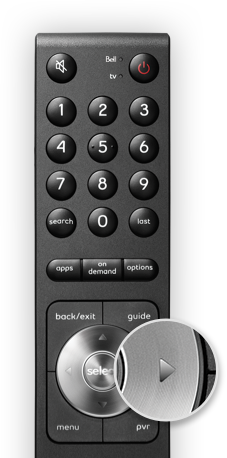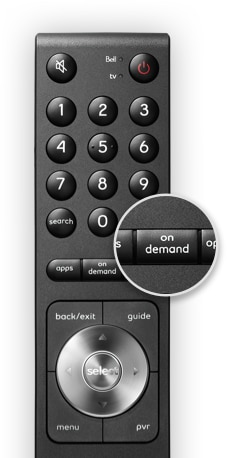 Step 1
On your remote, press the On demand button or tune into channel 1000.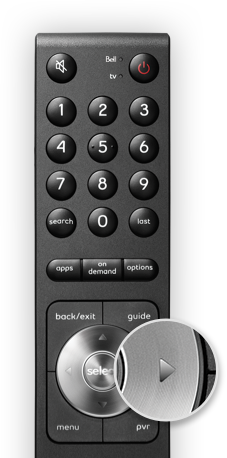 Step 2
Using the arrows, scroll to a category. Once you find a desired title, press select to choose content.
Step 3
Press Select again to rent or play your selection.
TV AnywhereTM service
Access the largest selection of channels at home and on the go on the screen of your choice.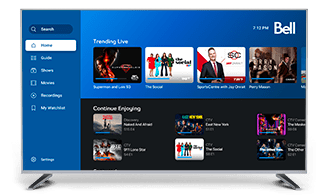 On your TV
Tune into channel 1000 or press the on demand button on your remote.
The best TV-watching app
Learn how to access live and on-demand channels as well as your recordings on all your mobile devices.
Can't decide what to watch?
Let the integrated ratings, reviews and recommendations from Rotten Tomatoes guide you – only from Bell.
Fibe TV app is available with select compatible devices. Download & Go is only available for recordings and select on demand content which require a subscription on smartphones and tablets. Requires mobile network or Wi-Fi connection (except to watch your downloaded content). A PVR is required to manage and watch your recordings; recordings available for maximum 60 days with the Fibe TV app. Select live and on demand channels/content from your TV subscription is available for viewing. More channels/content are available over Wi-Fi at your home with a Bell Aliant Internet connection vs. with a third party Internet connection or outside your home. Content viewed over Wi-Fi at home will count towards your monthly Internet data usage (if applicable). Mobile data charges may apply. Channels/content subject to change without notice and blackout periods may apply. Viewing live content with Google ChromecastTM, Apple TV (4th gen. or 4K box), Amazon Fire TV (basic edition or higher), Android TV (Google-certified) or AirPlay is only available within your home and an unlimited Bell Aliant Internet connection is required. Viewing on the Fibe TV app is available up to HD and picture quality may vary based on Internet speeds. Other conditions apply.
Fibe is a trademark of Bell Canada. Crave, STARZ, and all associated logos are trademarks of Bell Media Inc. All rights reserved. HBO®, HBO Canada®, and related service marks are property of Home Box Office, Inc., used under licence. All rights reserved. SHOWTIME and related logos are trademarks of Showtime Networks Inc., used under license. All rights reserved. All images, artwork and trademarks are the property of their respective owners. All other marks and images are the property of their respective owners. All rights reserved.