Business Mobility Bell Canada
Power your business with Canada's most awarded 5G network
Trusted reliability
The Bell network provides the coverage and reliability you need to keep business running – with security that's trusted by banks and government.
Explore phones and plans that work as hard as you do
The more you add, the more you save.
Keep your business connected with 120 GB of unlimited data, no data overage fees and predictable monthly costs. Plans start at just:
$

85
per month
View plans

* Available for up to 15 lines
Why more businesses choose Bell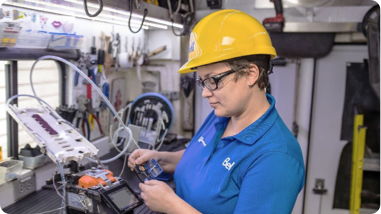 Leader in innovation
We invest more than $4 billion each year in our networks to ensure you can always count on Bell for speed, performance and reliability.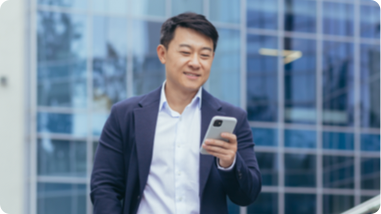 Support for your business
Our team of experts is available 24/7 to support your business. Plus, our award-winning app lets you monitor usage, update services, view and pay bills, and more.
Bell backs businesses
We proudly support organizations like Total Mom Inc., Centech, the Bell 5G MEC Accelerator at MaRS and over 100 Chambers of Commerce to help drive change and support innovation.
More great offers for your business
Exclusive offer for Bell Internet clients
Get 75 GB of unlimited data for $50/mo. when you sign up for Mobility services with Bell.
Call 1 855 272-0782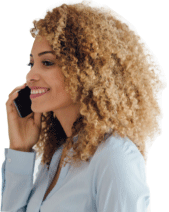 Current as of July 13, 2023. Available with compatible devices within Bell Mobility's network coverage areas. Speed and signal strength may vary due to traffic, topography, environmental conditions and other factors, including Bell's Internet traffic management practices (e.g., priority access to emergency personnel and critical infrastructure personnel). See bell.ca/ITMP. Services subject to acceptable use restrictions including consuming excessive network capacity or causing our network to be adversely affected. See bell.ca/acceptableuse. Ending your Commitment Period early results in a Cancellation Fee; see your Agreement. Subject to change without notice; not combinable with other offers. A one-time Connection Service Fee ($60) is applied on your first bill to activate your device on the Bell network. Additional one-time fees are subject to change over time. See bell.ca/onetimefees for details. A provincial government 9-1-1 fee may apply where applicable: QC: $0.46/mo., NS: $0.43/mo., AB: $0.95/mo., NB: $0.97/mo., SK: $ 2.08/mo., PE: $0.70/mo., NL: $0.75/mo., NWT: $1.70/mo. Bell remits required amount to government. Taxes extra. Other conditions apply. To change your rate plan at any time, log in to MyBell.
*Internet traffic management practices (ITMP) for Bell Mobility. Speed and signal strength may vary due to traffic, topography, environmental conditions and other factors, like Bell's management of network resources, using methods which include Internet traffic management practices. See bell.ca/ITMP.
Based on a third party score (Global Wireless Solutions OneScore™) calculated using wireless network testing in Canada against other national wireless networks. Bell.ca/network. Available with compatible devices within Bell Mobility's network coverage areas. Offers subject to change without notice. 5G/5G+ access requires a compatible device and a compatible rate plan (even if a 5G/5G+ symbol appears on your device). Coverage is approximate, may vary and may not include indoor coverage; see bell.ca/5G. Speed, performance and whether a 5G/5G+ device uses the available 5G/5G+ network depend on various factors including: your rate plan, topography, environmental conditions, the current serving radio conditions at your location and whether the device is actively downloading or uploading data. Access is subject to Bell's management of network resources, using methods which include Internet traffic management practices. See bell.ca/ITMP. Starting in select areas of Vancouver, Calgary, Edmonton, Montréal and the Greater Toronto Area. ↩
Customer must trade in an iPhone 13 Pro Max 512 GB device in pristine condition to be eligible for the full $780 trade-in credit. Trade-in credit applied in one payment of $780 on the 2nd or 3rd billing period. The phone must power on, charge, navigate properly to the home screen; the keyboard and/or touchscreen must be responsive and functional; it must be free of any physical damage such as visible chips, cracks, missing parts, dead pixels or dark spots and the battery and battery cover must be included. For an Apple iPhone, the Find My iPhone Activation Lock function must be turned off and no longer linked to your Apple ID (iCloud account). Not offered in National retail stores. ↩
As ranked by PCMag. Reprinted with permission. © 2022 Ziff Davis, LLC. All Rights Reserved. Based on a third party score (Global Wireless Solutions OneScore™) calculated using wireless network testing in Canada against other wireless networks of combined data, voice, reliability and network coverage. ↩
Based on a third party score (Global Wireless Solutions OneScore™) calculated using wireless network testing in Canada against other wireless networks of combined data, voice, reliability and network coverage. ↩
As ranked by PCMag. Reprinted with permission. © 2022 Ziff Davis, LLC. All Rights Reserved. ↩
Current as of September 15, 2023. Available with new activation when adding additional lines on eligible plans (excluding Personal, Tablet and Mobile Internet plans). There must be a primary subscriber activated on the account with an eligible rate plan to receive a $25 per line discount. Shareable plans are only shareable with other eligible shareable plans. Primary line not eligible for additional line discount. ↩
Current as of July 27, 2023. Offer available to current Small Business customers with a continuous subscription to an eligible Internet package and an account in good standing for one billing cycle following Internet activation. Offer available with new activations on eligible Essential 2-year plans with Bell SmartPay™ or 30-day BYOD plans (excluding Personal, Tablet and Mobile Internet plans). Rates are subject to change. Offer not eligible on new activations switching from an affiliated wireless brand or that have reactivated within the last 30 days. One-time Connection Service Fee ($60) is applied on your first bill to activate your device on the Bell network. Taxes extra. Any change made to the services may affect the price and/or result in the loss of the credits or promotions, as the case may be, as eligibility condition may vary. ↩
Current as of March 16, 2023. With a new activation or upgrade. A $50 one-time Connection Service Fee applies. At participating locations. Must be 18 years or older and legal owner of the phone traded in. Max. 1 phone per trade-in. The minimum trade-in value of the device must be $25. Rebate applies at the time of purchase on the price of the device and/or accessories in store after taxes. Amount depends on the trade-in value of the device based on the device condition; not all devices are eligible. See bell.ca/tradein for details. ↩
Offer valid online only from June 15 to December 31, 2023 for new Staples Preferred members only. A minimum purchase (before taxes and excluding any gift card purchases) is required in order to redeem the coupon; taxes and gift card purchases are not included in calculating minimum purchase. Limit of one coupon per person, per transaction. This coupon cannot be combined with any associate discount, other coupons/offers. Not applicable on prior purchases before June 15, 2023. No cash/credit back. No copies or facsimiles. Offer valid in Canada only. Staples reserves the right to limit quantities. After registration for the Staples Preferred Program is completed, a promo code will be sent via email. Please use the promocode at checkout to redeem the offer. Additional exclusions may apply; ask an associate. Coupon does not apply to Clearance, Bose products, Cricut products, Fitbit products, HP Ink and Toner, downloadable software, tech services, tech support subscriptions and tech services warranties, business service provider, Shipping services, Shredding pick up service, gift cards, phone cards, postage stamps, self-serve copying, charitable donations, electronics levies, environmental and other third-party fees or prior purchases or details. ↩
Order now
1 to 15 lines
16 to 99 lines