Some channels are not available to small business customers.
Bell gives you the chance to preview select channels each month, free of charge.
You can add channels to your programming at any time by logging in to MyAccount for Fibe TV customers or MyBell for Satellite TV customers.

CP24
Free preview:
March 13 – August 31, 2020
CP24 provides news from the Greater Toronto Area and Southern Ontario in addition to national and international news. The channel delivers nine simultaneous and continuous streams of information, including weather, traffic, sports and stock market quotes. Also in HD. Also available on demand.

CTV Comedy Channel
Free preview:
June 18 – July 23, 2020
Get into the biggest sitcoms and late-night talks. A-list stand-up, hit movies and every other flavour of funny.

CTV News Channel
Free preview:
March 13 – August 31, 2020
CTV News Channel is Canada's 24-hour all-news network, delivering breaking news from across Canada and around the world. Through its partnership with CNN, ABC and APTN, Canadians also get the latest in politics, business, entertainment, sports and weather. Available on demand.

GiNX Esports TV Canada
Free preview:
May 1 – July 31, 2020
GiNX Esports TV Canada is the definitive source for Canadian esports enthusiasts, featuring live tournaments, news and gaming lifestyle programming from around the world.

NBA TV Canada
Free preview:
July 1 – July 31, 2020
NBA TV Canada offers basketball news daily, as well as programming showcasing basketball players' individual lifestyles, life as a team during the NBA season, famous games of the past and live games.

Zee TV Canada
Free preview:
July 1 – September 7, 2020
Zee TV Canada offers many choices for any type of audience, including daytime and primetime dramas, television and theatrical movies, and specials. Zee believes in bringing innovative programming to its viewers. In Hindi.
TV Anywhere™ service
Access the largest selection of channels at home and on the go on the screen of your choice.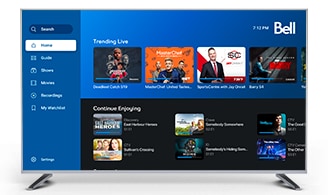 On your TV
(available with Fibe TV)
Browse the guide using your remote or download the app on a compatible device to watch
on your additional TVs.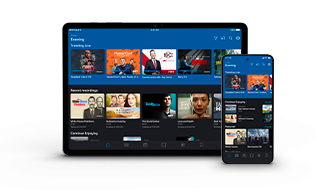 On your mobile devices
Watch TV wherever you are on an
iOS or Android device.1
Additional details
Crave, STARZ, and all associated logos are trademarks of Bell Media Inc. All rights reserved. HBO® and related service marks are property of Home Box Office, Inc., used under license. All rights reserved.