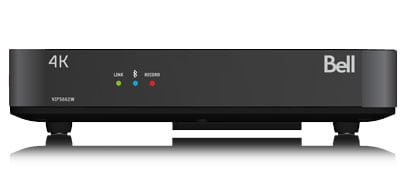 4K Whole Home PVR
4K Ultra HD
picture quality
Record up to
150 hours in 4K, or
up to 320 hours in HD
Includes Whole Home PVR and HD programming fees
$0.00/mo.
4K, Whole Home PVR and HD programming with a Better or Best bundle
First receiver rental plan is $0.00/mo. Rental fees of $8.00/mo. apply for each additional receiver.1
A one-time $59.95 professional installation fee applies.
Offer details
Available to new Bell Aliant Fibe TV residential customers in New Brunswick, Nova Scotia, Prince Edward Island, Newfoundland & Labrador, where access and technology permit. Subject to change without notice; not combinable with other offers. Taxes extra. Other conditions apply. Installation fees also apply.
First receiver rental plan is $0.00/mo. Rental fees of $8.00/mo. apply for each additional receiver. The receiver remains Bell Aliant's property. You may terminate your rental at any time provided you return the receiver. Receiver may be new or refurbished at Bell Aliant's choice.
Factors to consider before installation:
Move away any large furniture that might impede installation.
If you live in a rental property or condo, it's your responsibility to get permission to install Bell Fibe TV. You'll be required to sign the work order, confirming that you have secured the required permissions.
The account holder should be on-site for the duration of the installation. If you can't be home at that time, please ensure that someone 18 years of age or older, will be on-site to authorize the installation and sign the agreement on your behalf.
Technicians are not authorized or equipped to enter a customer's attic for cable routing.
Basic installation will take 4 to 6 hours to complete. It does not include fishing wires through walls.
Note: Your installation may start at any time during the scheduled appointment window. The technician will then need 4 to 6 hours from that point. In more complicated installations, the technician may need more time.
Preparing for your installation and set up
Make sure that your TV(s) and computer(s) are functional and that the connections to both are accessible.
1 TV should be located close to a coaxial cable outlet where the cable comes out of the wall, or located close to where your modem will be. Your computers should be near power outlets.
Have two power bars available to facilitate all the connections required.
If you already have Bell Internet, please have the WEP or WPA key for your wireless home network available so the technician can configure your new system with your existing wireless settings.
Sit back while your Bell technician:
Hooks up your Bell Fibe TV service to your TV, home theatre system, and the Internet.
Installs your Bell Fibe TV receivers in their requested locations.
Installs the Internet gateway and configures it for Fibe TV.
Connects one PC and two laptops to the Internet gateway.
Activates all the receivers you've ordered.
Optimizes your receiver settings for a sharper picture quality.
Adjusts the receiver settings for optimal TV format and input.
Programs the universal remote so that you'll only ever need one.
Provides you with a full tutorial on how to use your Bell Fibe TV, remote, and receiver.
Additional information
The technician will connect the receiver to your home theatre system but is not responsible for its configuration and set-up.
All wireless installations come with a free wireless transmitter to connect all the wireless receivers in your home.
You've reached the maximum quantity allowed for this item. If you still need more, you can place another order after finishing this one, or you can call 1 888 466-2453.