Online shopping made easy
Fast & free shipping
Orders ship within 48 hours. 1
Hassle-free returns
If you aren't satisfied, simply send it back. Details.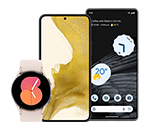 Buy today and take advantage of awesome spring savings.
(†) Current as of October 1, 2020. The waived one-time Connection Service fee ($50) applies to the activation of a new phone or a new smartwatch online only. Additional one-time fees are subject to change over time. See bell.ca/onetimefees for details.
(*) Current as of April 2, 2019. With new activation on a Smartwatch Connect Everything plan with minimum $10/month. A one-time Connection Service ($50) applies on your first bill. Users must maintain a minimum 1 GB of data throughout the 24 months to be eligible for this offer.
Orders placed after 4:00 PM local time on Fridays will be processed the following Monday. Delivery timing depends on courier availability.
Appointment options
Meet with a representative to learn more about our latest products, services and offerings.
Skip the waiting time and get the next available representative to call you now.
Have a Bell representative call you at the time of your choosing.